This post is sponsored by Lexington Law.
As a business owner and mom of two, I'm all about finding the time to travel to unwind.  But when you're on a budget or don't want to break the bank it can be tough.  I used to push off vacations and find excuses not to take them because I thought I was being selfish and didn't want to spend money that could (and maybe should) go towards other things.  But after having some heart to heart talks with my mom and husband, I realized that taking a mental health break to relax and rewind was really important.
So, I moved from pushing off trips to planning them, but this time on a budget.  This has been a win-win because we can go on vacation and I don't feel guilty.  I know that I've stuck to a dollar amount and did what I could to save our family money.  If you're thinking about going on a vacation or worried, you're going to break the bank, I have 12 tips for you.
Extend work travel
If you're already going to an awesome location for work and they're paying for your stay, meals, and flight; extend your stay.  This may or may not be an option for everyone but to pay for a few nights in a hotel versus your whole vacation package is huge.  Your significant other or friend can also tag along in your free hotel room and potentially cover some of your other expenses (food, ground transportation, activities) to help even it out.
Travel during non-peak times
The price of your trip can change quite a bit depending on the time of year you go away.  If you hit a popular destination spot during an off-peak season, you're more likely to score a deal on flights and hotel stay.  If you only have certain dates where you can travel, consider finding off-peak locations and if your heart is set on a specific spot, find out when their off season is.
Check for last minute deals
When flights don't sell out or hotels have empty rooms, they tend to lower their rates.  Websites like Kayak, Expedia, and Travelocity have whole sections on last minute deals.  If you're just looking to get away and are open to going where the best deal is, check it out.
Travel packages
I've been pretty loyal to Expedia and tend to use them for vacations with just my husband.  When I've priced out the same flight and stay outside of their site, it always comes up much higher.  Plus, I get the points from Expedia to use on future trips.  You do want to be careful about the extra fees and understand what class you're in on your flight.  Read the fine print and understand if you can bring a carry-on item and if you'll have to pay additional money for your physical seat on the plane.
Avoid baggage fees
As much as I want to bring my shampoo in its original bottle to make my life easier, I usually don't.  Baggage fees add up and add up fast.  If your bag is over the weight limit or you're bringing larger liquids, you need to check your bags in both directions.  That cheaper flight is no longer that cheap, when you're spending $50+ to bring your stuff on the trip.  You can either use an airline that includes a checked bag or pack a little lighter.  I know, I like shoes too but not enough to pay all that money to bring them with me if they don't fit in my carry on bag.
Travel with friends
I try to go on a small girls trip once a year to spend some quality time with my friends.  When I split a room with 2-4 people, it's way cheaper than "splitting" it with my husband.  That $200 per night room with him is still $200, but with 3 other girlfriends, my bill drops to $50 per night per person.  Obviously, only go on vacation with people you want to be around, but the more people in a room the cheaper it will be for you.
Use your credit card points
The better your credit is, the more options you have to get a credit card with perks.  The travel cards are great because you earn points towards airfare and can cash them in for free flights.  Then you can just think about the other expenses you have and don't have to worry about finding the money for your airfare.  With what said, it's not the time to start charging everything to earn a "free" flight.  If you're not paying for the ticket but paying for the sweaters you didn't need, that's not helping you stay on a budget.  This is an option if you're looking to earn something from the purchases you were already intending to make.
Adjust your travel days
If your schedule is a little flexible, adjust the days you're planning to go away.  Flying on a Tuesday, Wednesday or Saturday is cheaper than the other days of the week (especially Friday and Sunday).  You can also look at the flight times and number of stops as you can save some money by going a little later in the day or leaving a little earlier in the morning depending on the location.
Monitor your prices
We booked a trip to Cancun for September and I thought I got a great deal on flights with Southwest.  I was checking prices the other day just for fun and noticed they went down about $20 per ticket.  I gave Southwest a quick call and they gave me the fare difference in Southwest credit.  The credit has to be used within the next year, but its "free" money if we choose to go away during that time.
Consider a housing alternative
I went to Nashville with a few friends last year and we opted for an Airbnb.  This was a great option so we could all stay in the same place while each having our own rooms and a full kitchen.  We saved money on food by making dinner a few nights and the price was significantly cheaper than a lot of the hotels in the same area.  Whether it's a VRBO, Airbnb or a hostel, there are so many alternative housing options to make your stay more affordable.
Consider a different plane class
More and more airlines are offering cheaper base fare options that can be the difference of hundreds of dollars.  These are the same physical seats on most flights in coach but have more limitations.  The biggest thing to note is that you board last, carry ons are limited, and you cannot upgrade your seats.  If those things are not important to you, you can get a great deal on a ticket.
Buy gift cards
When we traveled to Disney a few years ago with our kids, we bought Disney gift cards at BJs Wholesale using our credit card.  We got 2% cash back from our credit cards and they cost slightly less than the card value with BJs discounts.  We spread out the purchases of the cards over time, so we weren't hit with a huge expense at once.  One day I would grab a $50 card and the next month I would get another one.  By the time we went away, we had a decent amount of money to use towards food and souvenirs. So, when we got home, we didn't have a ton of additional expenses to now have to pay off because we used the gift cards as payment.
Taking a trip is a great way to spend time with friends and family, unwind and take a mental health break.  But you don't want to break the bank in order to do it.  It's possible to stick to your budget and have an amazing vacation at the same time.  The professionals at Lexington Law  can provide you with personalized assistance to repair your credit.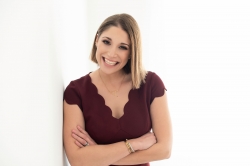 TEDx Speaker, Author, Facilitator
at
Everything's Not OK and That's OK
Alissa Carpenter is a multigenerational workplace expert, owner of Everything's Not Ok and That's OK and host of Humanize Your Workplace podcast.
She provides training, consulting, and speaking services to organizations all over the world. She has an MEd in Social and Comparative Analysis in Education from the University of Pittsburgh and is a Gallup-Certified Strengths Coach. Her work helps to bridge communication gaps across generations, job functions, and geographies, and she has worked with organizations ranging from non-profits to multi-billion-dollar enterprises. She has delivered a TEDx talk on authentic workplace communication, and has been featured in media outlets including Forbes, ABC, FOX, and CBS. Her book, Humanize Your Workplace (Career Press), is set to release next year.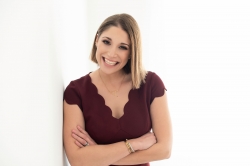 Latest posts by Alissa Carpenter (see all)