NOT OK THAT'S OK MOMENT BY: STEPHANIE LYNCH
About eight years ago, you would have found me in the middle of my college degree and working at a doctor's office. I was in charge of all the computer systems and technology in the office, and was hired on to help make the massive shift from paper patient charts to an electronic system. This major transformation took about a year to complete. Oh, and that college degree? It had nothing to do with the medical field.

I got my Bachelor's of Arts in Digital Media. I worked with web design, graphics design, video games, and all things creative on the computer. And to this day I still use the skills I learned during college when working on my blog and my other businesses.
So why did I work there? It was a perfect college job. Being a doctor's office, we didn't work on nights or weekends, and only worked a half day on Fridays. They were extremely flexible with my ever-changing class schedule, and I don't think I was ever denied a day off if I asked. I worked for them, on and off, for about 7 years. During my time working there, I was slowly getting raises, and ended up being one of the higher-paid employees even though I was the youngest.
Once I graduated college, I quit that nice cozy job.
I wanted to do my own thing and start my own business. I have always had a love for photography, and wanted to do something more creative that applied to my degree and what I had just spent five years for in college.
It wasn't an easy switch by any means. My fiancé (now husband) was in a very intensive graduate program at the time, so he wasn't working either. But I wasn't happy working at the office. So we made the jump, took a leap of faith together.
My photography business was slow getting off the ground, like any startup, but I kept at it. When my husband graduated, he got a job in his industry, so we were a little more stable. We were married not long after his graduation, we were able to buy our first home, and I got pregnant with our first child.

Since I wasn't making much with my photography business, and we needed to be able to support our child, my old office talked to me about working from home for them, and I jumped on the opportunity. It has always been our goal that our children would not go to daycare and one of us would be home with them. This was a great way to be home with my baby, and still contribute financially.
It was going well, and even when we moved halfway across the country from Florida to Texas, they still allowed me to work from home. I was pregnant with our second child at that time, so had to take a break after his birth. Once I recovered, I kept at it for a few months.
By the time my youngest was about 3 months old, I just couldn't handle it anymore. So I quit, again. This is why I said I have worked for them on and off for so long. Almost two years later, I haven't gone back. Yes, the consistent paycheck was nice, but I love what I am doing now.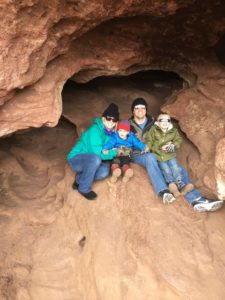 I have a photography business that, while not thriving, makes us a little bit of income every month here in Texas. I am an independent consultant for Legacy Republic, helping families preserve and share their family memories trapped on old formats. I run a blog for recipes, parenting, and a little of everything else.
But most important, I am a mom.
It took me a while, but I have learned that I would rather do a few different things that make me happy, than have that big paycheck. Yes, it would be nice to make a bigger income, but my current jobs are worth my sanity.
My husband also quit his full-time job last year to freelance as a graphic designer, and it was the best thing for our family. Our boys love having us both home during the day, and we get to set our own hours and do what we want to do. We love to travel, and by working for ourselves, we now have the opportunity to do that more often.
Quitting a full-time comfortable job was stressful, and we had to learn a lot about how we work, and how we work together.
We had to schedule ourselves to make sure we both get enough time to get our work done, and have enough time for the boys.
Working for ourselves has brought us closer as a family because we get more time together. We are still working on securing more clients for my husband, and I am working on getting more people to realize the importance of digitizing their family memories, but we are working on it. Right now we get the bills paid, which is the most important.
For a while, we weren't sure we were going to be ok financially. It was a giant leap for neither of us to have a full-time steady income. But as we get further away from that jump, we are realizing more and more that we are ok with where we are at, and will continue to work our way up towards our goals.
Do you have a "NOT OK" moment you want to share? We would love to hear it. 


Stephanie is a native Floridian living in Texas with her husband and two young boys. She is a stay-at-home mom, a photographer, a Legacy Maker, and blogs at www.youaremysonshine.com about parenting, recipes, and life in general

Latest posts by Stephanie Lynch (see all)