Happy Spring Friends!   To celebrate the start of the spring season, Fiorenzea of FiorenzaRossini.com and I are hosting an Instagram Challenge!
We've created 1 week worth of photo prompts, starting 29th March. These prompts were selected as a fun project to celebrate the start of a new season, share our self-care practices with one another, and to get to know each other in a meaningful way.
Fiorenza and I are full-time advocate of personal growth, development and happiness, and our goal is to create a meaningful and engaged community which shares these values.
This mini Instagram challenge will be a great way for everyone to share a little of their own creativity and happiness, and to get to know each other through the hashtag (#springlove2017)!  We hope you'll join in on the fun!
The prompts are in the image below and are totally up to your interpretation!  
Have fun with it and be inspired!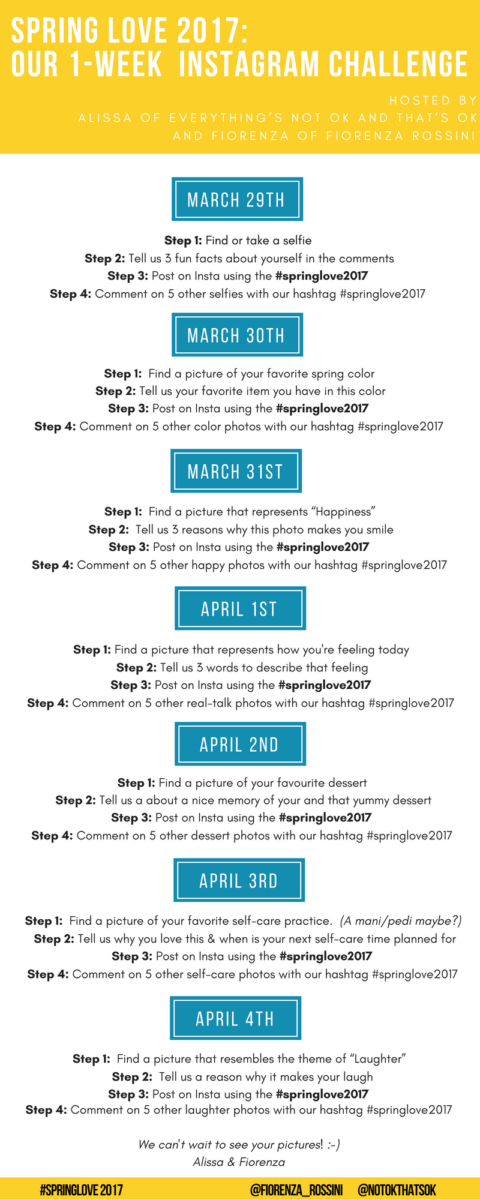 To participate:
Follow @fiorenza_rossini and @notokthatsok on Instagram 
Follow the prompt of the day.
Tag your photos with #springlove2017
I'll also be sharing my favorites on the blog and link them back to you!  Wahoo!
If you don't have an Instagram account, no worries.. it's super easy!  Just head here to open a free account.
Feel free to share the image and this post with others!  Let's get this party started!

Forbes Contributor, Professional Trainer, Speaker and Career Coach
at
Everything's Not OK and That's OK
Alissa Carpenter offers professional development and career exploration to companies, alumni groups, student advising units, and individuals across the country. She works to enhance team communication, teamwork and interpersonal skills with an upbeat personality and true passion for working with others to set and achieve goals.Alissa has an MEd in Social and Comparative Analysis in Education, is a Gallup-Certified Clifton Strengths Coach and is certified in the Strong Interest inventory.

Latest posts by Alissa Carpenter (see all)